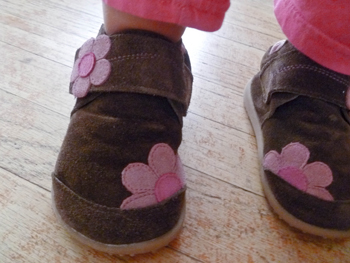 My daughter has a few words she has mastered – cheese, baba, and shoes. Shoes is her favorite of the moment, and it's largely due to her NEW shoes. Her last pair of shoes were pretty cool, but these new ones have her screaming SHOOOOOOOOOES the moment she wakes up in the morning.
Seriously.
A couple of months ago I stumbled upon ShooShoos while looking for baby shoes for my newly-walking-just-turned-one-year-old. I wanted a step up from those baby baby shoes because she was stomping all over the place and needed something that would be easy on her feet, and easy for her to get on and off (because in my silly head I assumed she'd figure out how to put them on herself).
Anyway, I found the ShooShoos website just in time. They were having a sale so I ordered a pair for her to use right away and a pair for later. They are soft rubber soled shoes with an upper made out of leather and a wonderful velcro strap. Yeah- no strings! It doesn't hurt that the shoes have adorable flower embellishments, either.
The price was right – really right! Kid shoes are expensive, and when you realize how quickly they grow out of things, spending more on shoes for your tot than you do for yourself is a bit frustrating. So, I placed my order and happily strapped her new walking shoes on when they arrived.
Well, that was just about a year ago. Those wee shoes were worn well (and still in great shape – just way too small), and we've even gone through a pair of sandals. So, when the weather turned cooler and those sandals had to make a disappearance, I dug out the other pair of ShooShoos and popped them on.
And they haven't come off since.
Yesterday she even napped with them on.
Thanks, ShooShoos!
(I think)
🙂