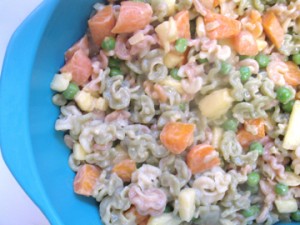 I am having a hard time coming up with food that keeps my babe happy. She pretty much likes cheese. All kinds of cheese. Her first word was cheese and it is super cute that she says it all the time – but that's the thing. She says it ALL THE TIME.
Along with cheese, my lovely daughter likes grapes. So, if she could eat cheese and grapes for every meal, she'd be a happy camper. Sadly, grapes and cheese will not sustain a wee tot, so other items need to be introduced. Rarely do these items pass the toss-to-the-floor test. So when I find a winner, I am a pleased mama.
Yesterday I discovered a magic combination. Peanut butter, pasta, peas, and pineapple – a wonderful "p" palooza – along with some carrots, soy sauce, and an ice-cube. It's super simple, and also quite tasty! If your babe likes chicken or tofu, they would be lovely additions, too.
Ingredients
2 cups cooked pasta of your choice
2 carrots chopped
1 cup fresh or frozen peas
1 cup chopped pineapple
2 Tablespoons peanut butter
1 teaspoon soy sauce
1 ice-cube
seasoning to taste
*1/2 cup cubed cooked chicken or fresh tofu
Start by boiling up some of your babe's favorite shaped pasta, enough to make 2-cups cooked, in some salted water. Add the chopped carrots to the pasta pot and let boil until everything is cooked through. While things bubble away, place 1 cup fresh or frozen peas, 1 cup chopped pineapple, the peanut butter, 1 teaspoon soy sauce, and 1 ice-cube in a bowl.
Strain the cooked pasta and carrots and then toss into the bowl, mixing together with the peanut butter and all the rest of the goodies. The ice-cube adds some extra moisture and cools the pasta (along with the frozen peas – if you use them). Once the peanut butter is evenly distributed, give the mix a taste and season as desired.
This is an easy meal that offers protein from the peanut butter, great fiber and vitamin C from the pineapple, along with additional fiber from those green peas and  loads of vitamin A.
And, it didn't get tossed from the high chair at my house – hopefully it will withstand whatever food test your little one has, too!