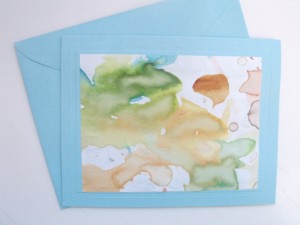 At the end of the school year, I would bundle up all the art projects that had managed to hang around the art room and send them home with their owners, or if the opportunity arose, press the collections into the hands of parents. Often, moms and dads would give me a blank stare and mumble that they already have so much artwork cluttering up their home (SUCH a shame), what are they supposed to do with these?
Old bits of random artwork can be turned into wonderful new things. It can be reinvented in ways you might be surprised with. Instead of tossing artwork into the trash (which really doesn't send a great message to your kids) make projects re-using them and showing your kids that you DO care about their creativity.
A simple way to turn an almost-tossed watercolor painting into something unique is to cut out a selected area and glue it to the front of a blank card. Kids can create tons of these and then send them off to loved ones, or bundle them with ribbon and give as gifts. I don't know about you, but I still love getting mail. I know grandma does, too.
Create a fun collage with kids by helping them cut out all their, and your, favorite parts of artworks. Use a large sheet of tag board to collage them in an interesting way. This way all the best bits are saved and the rest can be tossed away. On the back of the collage your child can write something special about that year of school – a sort of remembrance to enjoy later in life.
Turn old artworks into wrapping paper the next time you don't feel like paying $3.99 for a roll of printed-paper. Watercolor paintings work really well for wrapping, especially those done on easel paper. Sometimes tempera paint can be a bit flaky, so take a dry brush to the artwork and give it a good brushing before wrapping.
Shred the artwork and use it to make paper. It's a fun project that everyone will enjoy!
Laminate artworks and use them as place mats.
So, instead of throwing away your child's art, make it even more memorable by re-using it. Your child will appreciate it!