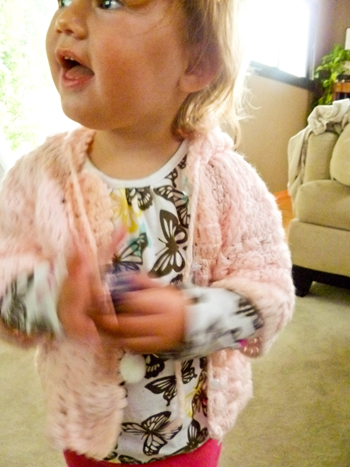 The truth is I got so caught up with the babe's fever that my plans for creating a fun and absolutely fabulous Halloween costume have totally disappeared. As always, I had some pretty grandiose plans earlier in the month. That was before I got a couple of writing assignments, got caught up watching baseball (really, I did), and busy dealing with sick baby. I finally took a quick peak at the calendar today and realized – gasp – that Halloween is but a days few away!
This made me even less motivated to try to get my creative juices flowing or even go near the sewing machine. The thing is, little kids could care less about dressing up. We, as parents, do it so we can snap thousands of pictures of the adorable moment and then laugh amongst ourselves while watching the wee tot pull desperately at the darn costume doing anything they can to tear it off. Finally, we end the torture and let them walk around with half the costume on, which is still pretty cute.
My child is WAY too young for trick or treating. But, we have some wonderful friends that invited us over to help pass out candy and then maybe parade our dressed-up children up and down the street for fun. So, of course, I need to have something absolutely fabulous to toss her into for the special occasion. And, it's Halloween after all.
But, I refuse to buy a costume. In all the years I dressed up, I don't remember mom tucking me into a pre-purchased Cinderella outfit or plopping me into a zip-up-the-front Elmo. I'm not saying buying your own costume is a bad thing – I'm just not into it. Earlier in the month, I had visions of creating a flower head-piece and a green shirt with felt leaves attached. I'm now leaning toward her hippie-print pajamas I picked up two weeks ago and lots of beads and bracelets.
So, crafty mammas and daddies out there, what's your favorite homemade costume? Anyone want to share?