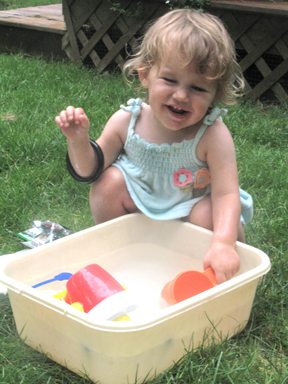 It was finally hot today, making my daughter and I search out fun ways to play and stay cool at the same time. My daughter loves the water and I'm always looking for ways to mix up water play to keep her interested along with encouraging some of her budding skills.
Simple activities such as pouring water from one container into another is an actual skill builder for wee tots. Not only is she learning about full and empty – basic beginning math skills, but also how to move her hand and body to pour water, which encourages her fine and gross motor skills. Along with exploring new skills, my babe is also learning more about the world around her through her senses, especially her sense of feel!
Well, she likes to taste the water, too. A lot.
What's great about water play is that it can turn into a science lesson by having your child water the plants in the yard using cups of water and learning more about the different flowers and trees in your yard. An art activity can easily happen when a brush is introduced to the mix and she's encouraged to paint on what's around her, like the side of the house, the outdoor furniture, the cat…
And, water is FREE. No one can beat that!
So, get out the kiddie pool, a washtub, or some big plastic containers and fill with a couple of inches of water. Toss in some plastic measuring cups, paint brushes, and other items for a watery-good time! We sure had fun!