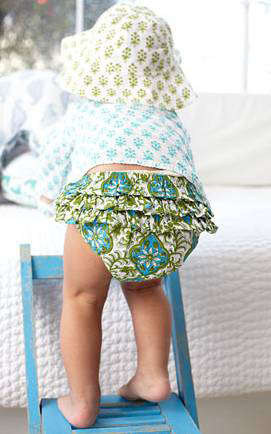 I don't know about you, but when I hear about a good sale I'm all about sharing that special info with others – especially when I really like the products! Such is so with Rikshaw Design, a dreamy collection of items for babes and adults that blend hip styles with mod block prints, making one feel like they are wearing truly international clothing.
So, when a little birdie sang sweetly in my ear about an upcoming sale where select merchandise will be %50 off, I though you might want to know. I'm planning on picking up some cool stuff that wont be around again until next spring! Included in the sale will be all block printed baby apparel, accessories, and adult kurtas.
Rikshaw Design has been featured in People, American Baby, Mom Magazine, and CoolMomPicks.com – so this stuff is trendy and super cool. I'm always on the hunt for adorable clothes for my baby, and myself – who isn't?! I LOVE this stuff – LOVE IT! The baby bloomers are just about the cutest thing ever (other than your own little cutie patootie)!
Founder and designer Catherine Fitzsimmons has traveled the globe taking inspiration from all the amazing adventures of her life and transforming them into beautiful block printed clothing.
The sale starts July 20th and runs through August 3rd – don't miss it!
For more information, check out Rikshaw Design's website at: