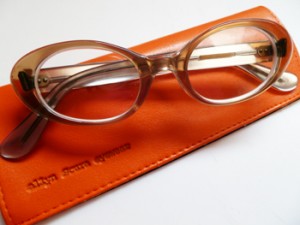 I wear contacts, which means each year I am supposed to get my eyes checked to update my prescription and ensure my eyes are healthy. I'll be honest, I haven't been so good about doing this (money was tight, I'm lazy), but had some extra cash at the end of last month and figured it was time to see the optometrist.
You see, it's not just paying for the eye exam, then there are contacts to be ordered and also glasses to be purchased. The whole shebang can add up – and I'm not the most excited shopper in general. So, spending time looking at myself and picking out glasses frames isn't my favorite way to spend the day.
The eyes are the window to the soul. Your eyes are bigger than your stomach. The eye sees only what the mind is prepared to comprehend. There are many famous sayings about the eyes, but the real deal is that they truly are an essential part of the body making up one of the five senses – sight. Eye health is important to me and I try to give them a good workout daily – along with feeding them lots of vitamin A and antioxidants. And, having an up-to-date prescription is super helpful for eye health, too.
After getting my eye exam, being pronounced eye-happy, and handed a new prescription, the contacts were ordered and the hunt was on for new frames. The husband and I just discovered the Alameda Point Antiques Faire and KNEW I would find some fun frames there. While walking through the faire last month we had seen a wondrous selection of vintage frames from Allyn Scura Eyewear, and I was determined to find the right pair.
The Alameda Point Antiques Faire is held on the first Sunday of each month, so earlier this month, we headed out with prescription in hand, and I gathered my (very small) powers of patience to battle the crowd to find the best glasses frames possible. When we came upon the spot, it was full – as always. This guy has a huge selection – and the biggest amount of calm I've ever seen. There were people shoving frames at him left and right, and every question and inquiry was given polite attention along with a smile.
After spending a good 20 to 30-minutes searching I found the frames. Yes, the child was not excited about being waylaid nor was the husband much help, but when I made my way to the front of the line to get my glasses, I was not only amazed with the reasonable price but the personal service provided. Everything was tucked away and I was told my glasses would arrive in a couple of weeks.
Within two-weeks my new glasses arrived – and they are awesome – along with a lovely case AND a hand-written thank you note.
Totally kick-ass.