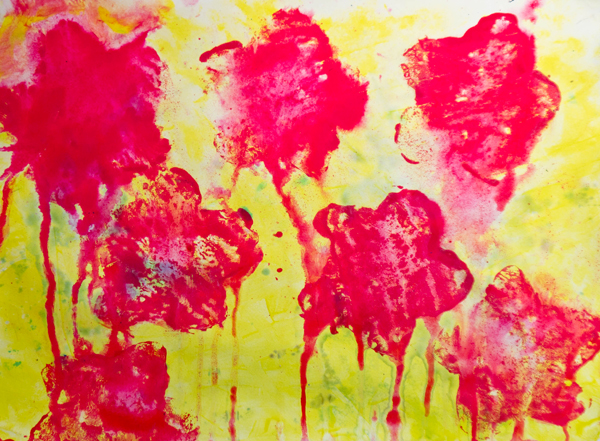 Now that the weather is so lovely, the tot and I are having a great time finding fun outdoor art activities to enjoy. It's also reminded of some of the wonderfully talented modern artists that explored shape, line, and color and how they simply played against each other. Some of our past friends, like Rothko and Frankenthaler, also created fine art showcasing the beauty of simplicity. However, one painting kept coming to mind while hanging outdoors the other day with the tot.
Cy Twombly was mostly known for his child-like scribbles, almost resembling looping lines of chalk on a faded chalkboard. During the mid 1900's art boom, when artists were exploring minimalism and abstract expressionism, Twombly went his own way and was basically ignored. One of his most recent paintings, Untitled, 2007, has a vibrancy to it along with a contained messiness. It also is full of repeated red flower shapes, dripping color onto a vibrant yellow background.
Red is my tot's favorite color.
After taking a closer look at the painting, we gathered a few materials to create our own messy Twombly inspired creation. To make that bright yellow background, I taped a sheet of drawing paper to a plastic place mat and dropped a big spoonful of yellow finger paint in the middle, encouraging my daughter to squish and squiggle the paint all over the paper. Older kids can create loops and lines for a more interesting background.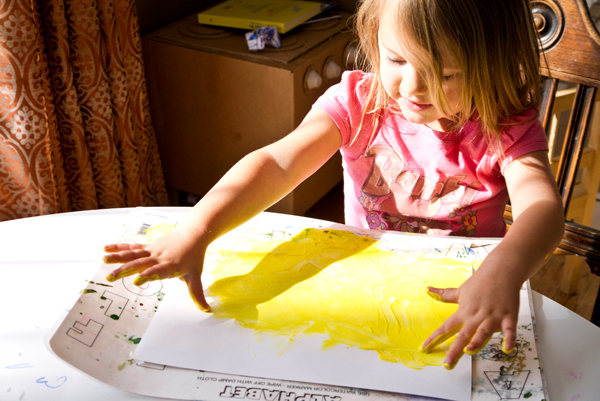 While the paper is drying, we created our flower stamp with the help of some cardboard, a plastic cap, and a hot glue gun. If your child is scissor-friendly, she can draw the outline of the flower with a pencil and then cut on her own. Mine's a bit young, so I helped with this step.
Hot glue the cap, open side down, to the cardboard flower and you're ready to go. Fold a sheet of paper towel in half and then add a good squirt of red paint. This is the stamp pad for the cardboard flower.
Invite your child to press the flower stamp into the red paint and then on the yellow paper, lifting to reveal a red flower. Continue stamping flowers until your child is happy with the arrangement.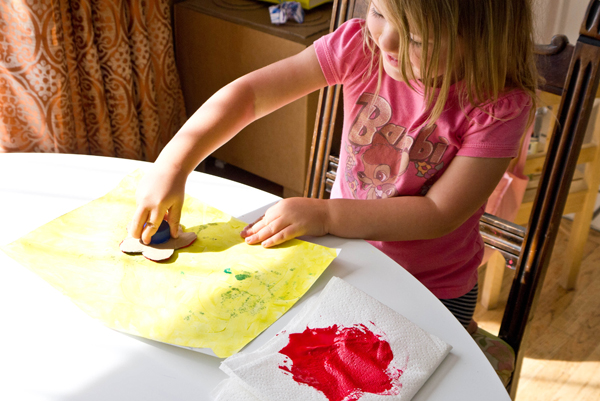 Now for the mess! Fill an empty spray bottle with a bit of water, grab the artwork, and head outdoors. Place the creation on a flat surface that's okay for mess, like the driveway. Invite your child to stand over the artwork and spritz with water. Lift the artwork and watch as the red paint drips and drips, just like in Twombly's painting.
Once your child is happy with the drippy mess, lay the paper flat until dry.
We had so much fun creating our Twombly inspired messy artwork that we made a few more using different color combinations!