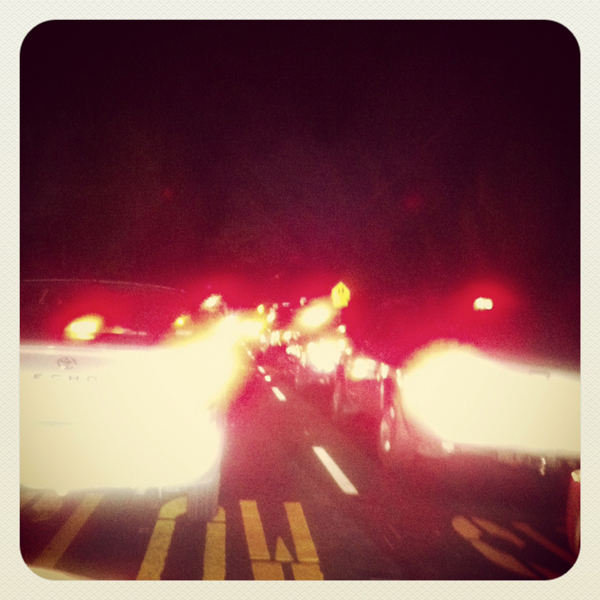 Last night the husband and I procured a babysitter, drove off to one of our favorite new spots in the area for dinner and a concert. The tot was happy sitting in front of a movie, our crazy-cool baby-sitter brought over her awesome rescue kitten to visit, and we were ready for a night out. We arrived at the restaurant, ordered drinks and dinner, and tried to decompress.
You know how it goes, right?
We found things to talk about, texted to let our sitter know we had arrived, didn't freak because she didn't text us back right away, ate, found something to talk about, texted our sitter again, and finished our drinks.
Did I mention this was the first time we were leaving the tot with anyone other than my parents (who don't live in the area) at night? Yeah, we've left the tot with our sitter during the afternoons before to slip out for a movie or hitting the driving range, but this was a big first for us.
We were a bit nervous and twitchy.
So, after dinner, we headed into the concert. We were a handful of the first let in and secured front row spots, literally standing under where Chris Robinson would be rocking out in less than a half an hour.
I like Chris Robinson.
I got another drink for myself and one for the husband and we were feeling pretty good.
Then we got a text.
Sitter: Oh no there was an explosion and the power went out.
WHAT?
I frantically called the sitter. She was cheerfully trying to find candles, flashlights, matches, anything. I was trying to figure out if the explosion happened IN OUR HOUSE.
Nope. Someone had run into a pole just down the street knocking out power for pretty much all of our area.
We hung up and our neighbor called to see how we were doing. We told him we were out for a date night and asked him to check in on our sitter. He laughed.
I knew we had to leave.
But we held out for a couple more minutes while hoping and hoping the band would start so we could catch ONE song before leaving.
Nope.
As darkness fell upon the land, we headed out and started the commute home that should've taken only a few minutes.
After 45-minutes we arrived home to a very dark house streaked with flashlight beams, a laughing tot, and a smiling sitter.
And I went about lighting as many candles in the house as possible. Instead of spending a few hours rocking out 2-feet from Chris Robinson, the husband and I spent the next few hours talking and talking by candle light.
Not a total date night fail after all.