So this place opened awhile ago and my husband is in love. Phil Lesh and an amazing team of people transformed what once was The Seafood Peddler into the new Terrapin Crossroads. Along with space for concerts, there's a revamped bar, a new menu, and a nice and bright look in the restaurant. The hubs has been enjoying the shows (and I a few quiet nights to watch the movies that I want to watch) so it's worked out pretty well. I'll be honest — I kind of thought the place might be a big ol' collection of Grateful Dead stuff with a loop of Terrapin Station playing over and over again.
Yeah.
I was wrong.
The husband offered to take the tot and I out for dinner the other night before he went to a show and I was blown away. The interior is just beautiful with a sweeping staircase and funky decor. A sitting area is right at the front with comfy couches and chairs along with a big collection of toys and stuff for the kids to play with. The bar was packed and the sun streamed through the glass back wall. Families were sitting in the oversized booths and others outside on the patio. We had a table overlooking the waterway and watched as boats lazily floated by.
Dreamy.
I ordered a glass of wine and we realized it was the first time we had gone out to dinner with the tot (at least that we could remember) and we were prepared for things to go down hill fast. But then we were brought a fun coloring sheet, a small package of crayons, and water in a plastic cup. The servers were totally on top of the kid-freindly thing and we put in her food order first so she would be occupied when ours arrived. The menu isn't huge, but we picked a couple of things to try…..
The food was out of control. HUGE portions, amazing flavor, homemade and local or organic, and served by an amazing waiter.
We sat and leisurely enjoyed a dinner while the tot ate every last bite of her meal. It was awesome.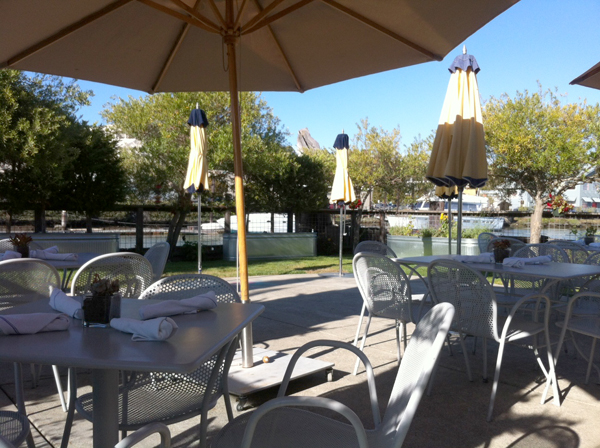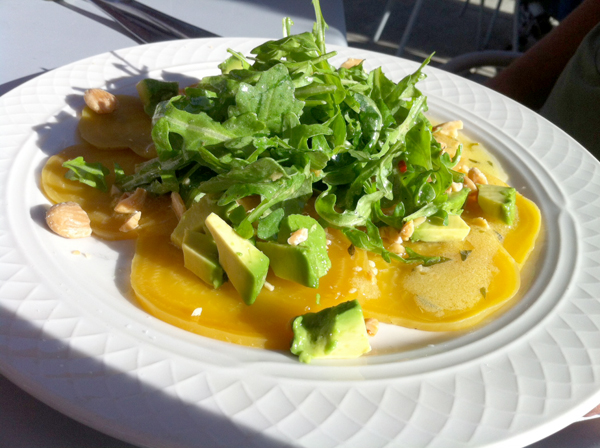 *Wondering what we ate? We started with beet salad and stuffed squash blossoms and then had the roasted shrimp and a tasty burger. The tot had homemade cheese sticks and big bites of everything else.