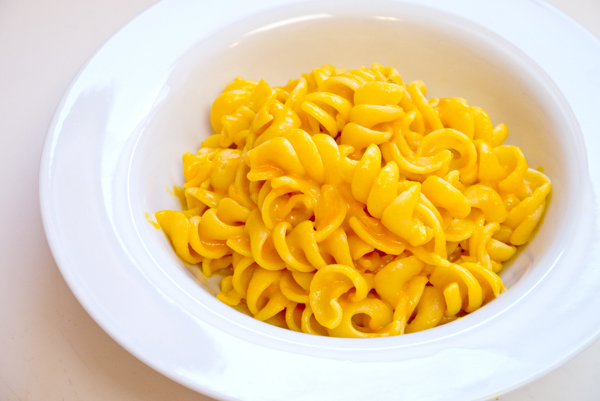 I have a toddler that loves pasta. She could eat the stuff all day everyday and be happy. I've played around with different kinds of pasta with great success (homemade spaghetti-ohs, white bean mac-n-cheese) but she was ready for something different. After the fifth round in a row of homemade spaghetti-ohs, she was moping around and even asking for peeup-and-belly-witches.
So the other day, while she was chomping down her sandwich, I experimented with a new pasta dish for dinner. I had fresh carrot juice in the fridge along with a bit of Greek-style yogurt. Yes, they don't sound like a good pairing, but along with the help of some cheddar cheese, anything is possible.
And, I was right.
This is a really easy recipe, you just need the ingredients. Most markets carry carrot juice, but make sure you don't pick up a blend with orange or cucumber. If you've got your own juicer, you're totally good to go.
Ingredients
8 ounces dry fusilli pasta cooked (which makes about 4-cups)
1/2 cup carrot juice
1/2 cup Greek-style plain yogurt
1/2 teaspoon seasoned salt (you know, that Lawry's stuff)
1/2 teaspoon vegetable oil
1/4 teaspoon salt
3/4 cup shredded cheddar cheese
Directions
Bring a big pot of water to a boil, toss in a bit of salt, and then your pasta. Any shape works, but the fusilli really is perfect. While things are bubbling away, mix together the carrot juice, yogurt, oil, seasoned salt, and salt in a bowl. Give things a whisk to make sure it's all creamy. Go ahead and shred your cheddar, too.
Once your pasta is cooked and happy, give it a strain. While it's hanging out, toss the carrot-yogurt mixture into your hot pot and turn the heat down to medium-low. Give things a stir while the sauce starts heating up.
As soon as the sauce starts bubbling, add the pasta back to the pot. Stir to coat the pasta and then add the shredded cheese. Keep stirring and simmering until the cheese is all melty.
Now is the time for taste testing – this is a kid-friendly recipe, so it's low in salt and also not too strong in flavor. If you know your kid loves garlic, add some in with the mix. Got a child that loves the spice? Kick things up with a few shots of hot sauce. Mine can't get enough of that tangy yogurt flavor, so I added an extra dollop at the end, along with a dash of pepper (and another sprinkling of salt).
The finished faux mac-n-cheese has an almost neon-orange color and is good hot or cold. My tot scarfed down 2-bowls for dinner, and happily ate a big serving cold the next day at preschool.
*The first time I made this recipe, I included shredded, slow-roasted turkey breast, which was out of this world. For an adult version, finish the pasta with a couple of good handfuls of spinach, top with extra shredded cheddar and pop under the broiler for a fabulous side dish.