Well, at my house, it's a mix of times right now. We've got a bit-o-Passover happening, and a some Easter stuff, too. Because we just got back from vacation, I'm not really prepared for either.
Yes, we dyed some eggs naturally last week before we left – the wee tot really enjoyed eating them – and we did some Passover stuff while on vacation. But this time of year really means one thing to me.
Chocolate.
We stopped our mail while gone, and on our return, I got word from my mother there was a special little package waiting for the babe. I frantically called the post office to see if there was any way that package could arrive yesterday. But no such luck – all the carriers had left for the day. I was a bit bummed, but figured we would do a little Easter celebration on Monday.
Well, the husband had a different idea. After we had run desperate errands (food and booze) and amazingly finding a couple of places open even on Easter, the husband said he had to run out for one last thing before cozying in for the day.
And this is what he returned with…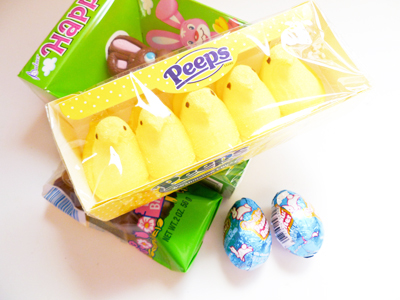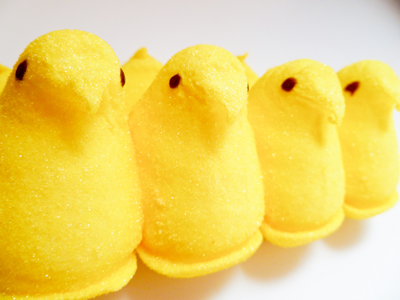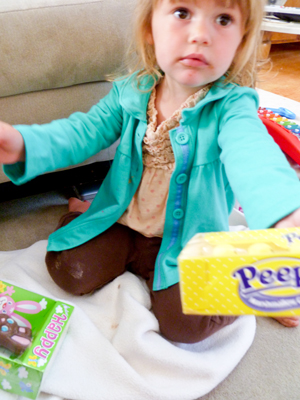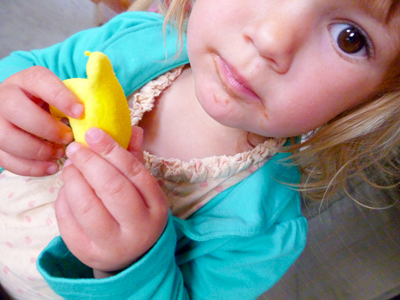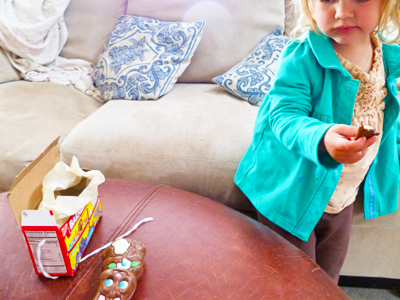 *So, Mom, whatever you sent will be greatly appreciated tomorrow because the wee tot didn't understand the Peeps were to eat, she just wanted to play with them. And, the minute she squished them, or did actually give them a taste, she totally threw a fit that they weren't the proper shape any longer. The chocolate bunny was just as bad. She LOVED playing with it, and when it was removed from its shiny plastic wrapper, she was completely freaked out by it.
The big winner was an empty box of animal crackers that the babe had been carrying around for days filled with chocolate covered animal crackers the hubs found while on his last-minute Easter shopping spree, which she shoved in her mouth as quickly as possible.
Oh, just so you know, she's running laps around the house this very moment. She's been at it for about 20-minutes now.
Happy Easter!
Tomorrow, treats with matzo….