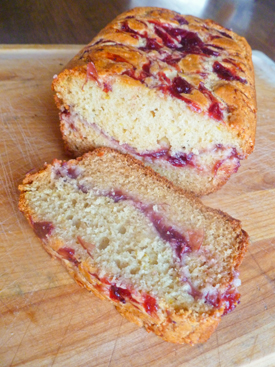 It seems that every year I pick up a primo can of cranberry sauce to proudly display on my Thanksgiving table, and no one eats any of it. They might take a dainty spoonful, but for the most part, there's tons left. I hate tossing things in the trash and am always trying to find ways to re-invent and re-use leftovers, so, those cranberries were burning a hole in my brain while chilling in the back of my fridge.
What to do with them?
Cranberries are an amazing little fruit. Packed with HUGE amounts of antioxidants (they are a truly miracle wee things) able to aid in fighting the common cold and ease pesky bladder infections, they are more than itty-bitty tart things. Cranberries grow on shrubs that thrive in low-laying areas of marshy land or water and are harvested with big ol-honking machines. They get their shining moment during the holiday season, and then are added to juices and other things for the rest of the year.
But, most of us have a can or jar of cranberry sauce hanging around for Thanksgiving. And, the majority of the time, that cranberry sauce isn't eaten.
I had one of those amazing DING moments and got the idea of combining that sweet tangy cranberry jell-stuff with a complimentary tangy-sweet lemon bread for a winning and healthful combination. Cranberry lemon bread.
YUM.
Ingredients
2 Tablespoons room temperature butter
1/2 cup sugar
2 Tablespoons brown sugar
1/3 cup vegetable oil
1 egg
1/2 cup plain yogurt
1/2 teaspoon vanilla
1/2 teaspoon baking soda
1/4 teaspoon baking powder
1 lemon zested
Dash of salt and cinnamon
1 1/2 cup flour
1/2 cup cranberry sauce
How to make the sweet and tangy bread
Toss the butter, oil, yogurt, egg, and sugars in a bowl and give them a good mix with a whisk or hand mixer. Once you've got a big, frothy mess, you're ready for the next ingredients. Go ahead and pre-heat your oven to 350 degrees Fahrenheit, too.
Now you can add the baking soda, baking powder, zested lemon, vanilla, and dash of salt and cinnamon into the mix and give a gentle stir.
Slowly start adding the flour 1/2 cup at a time. Once everything has come together, grease a loaf pan and pour half the dough in the pan.
Get out that cranberry sauce and dish 1/4 cup of the stuff over the mix. You can use a knife to marble the cranberry sauce by running the tip from side to side and then front to back, distributing that cranberry stuff all about.
Now top with the rest of the bread mix and dab on the remaining 1/4 cup of cranberry sauce. You can marble the top, too, if you want.
Put the bread in the oven and bake for 45 minutes. Once the time is up, take the bread out and let cool as long as you can stand it.
Enjoy!